PROJECTS
feature articles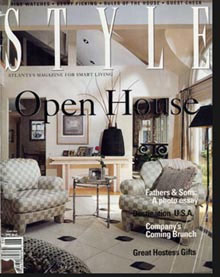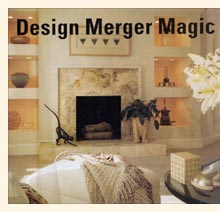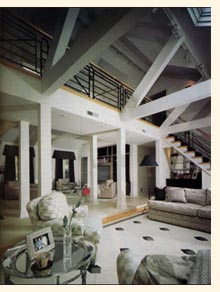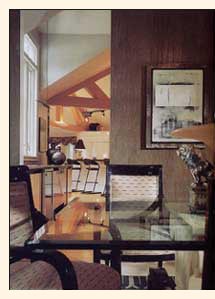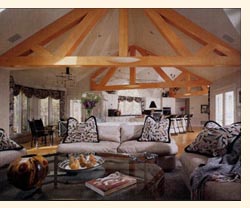 When Disparate Tastes Blend Smoothly, The Happy Outcome is a Harmonious Home
Style, June/July 1997
By Lynn Burnett McGill, Photography by Robert Thien
A serpentine driveway uncoils through a white rail fence enclosing a meadow, rolling woodlands and a house. The long, low-slung gray shingle and stacked stone home is fronted by rifts of flowers and seasonal color and punctuated by many entrances and windows. Fred and Lisa Peterson who live here with their two children, have created a hope that play host to many moods, from formal adult entertaining spaces to whimsical children's place.
From a loft over part of the kitchen, Lisa's son has suspended a green plastic basket. "It's his dumb waiter," she explains. His smart mom puts sandwiches and toys in it so he can hoist them up to the play area without coming downstairs. Or having mom come up. It's a serendipitous benefit of renovation-a change that has rendered the house almost unrecognizable from its self.
"We bought it for the property," explains Lisa diplomatically. Five acres at the dead end of a road bordering "civilized" subdivisions beckoned to Fred and Lisa the moment they saw it. Dogwood traces the hardwoods and pines, and Lisa, who recently has earned her Master Gardeners' certificate form the Atlanta Botanical Garden, envisioned azaleas and cherry trees, red cut-leaf maples and millions of pinks in the spring. Together they imagined the house with new wings, folding around to enclose a pool perfect for wonderful parties. But while they envisioned and imagined, the actual house sat there with a kitchen the size of a postal stamp, a living room and dining room with low ceilings and brown paneling.
The Petersons engaged architect Robert Ross to help them re-design the house, a project that would take nearly a year and massive amounts of energy. Now, this fact is known only to those couples who have survived renovations with marriages intact: if you get through it, your marriage will withstand everything. In the Petersons' case, his taste runs to streamlined contemporary. Hers comes from antiques and ornate design. How could they merge these two divergent lines? Ross created a structural design they could both live with, and together the couple decided on elements that could satisfy both tastes.
If one person's penchant for Beidermeier oppose another's yen for Brancusi, here's a solution: make the kitchen as contemporary as possible in design, but do it in colors softened and aged. Blond maple floors and ceiling beams and a maple service bar trimmed out with black granite and black base will make a great start. Put in a limestone fireplace with the simplest lines possible, and behold! Divergent tastes have merged, defying physics but certainly not marriage.
Defining the family room in this new mode, Ross raised the sitting area to create a space separate in design from the kitchen. For contemporary detailing, the use of natural materials such as stone and leather, glass and wood all combine to bring the elements into modern times, while the palladian windows reflects classical influence. The broad expanse of windows pleased Lisa. "I wanted to look out from any part of the house and see my children playing," she explains.
The living and dining areas, central to the core of the old house, required much imagination and daring to bring in the line the Petersons wanted. "There was absolutely no light coming in except from some windows at the back of the house," says Fred. "The ceilings were low and the rooms were all separate from each other, and small."
"I asked Ross to put the outside in. I insisted on a lot of windows. I've gardened since I was two and I wanted as much of nature in my house as possible," says Lisa.
Ross added skylights and remove the walls surrounding a "catwalk" over the living room. Walls defending living and dining areas were removed or punched out so that the entire area became one large room defined by columns and a raise central limestone walkway, a walless hall that counter-points the catwalk above. The front entrance, living, media and dining areas lie to either side of the "hall." And were the original low ceilings depressed the rooms into sardine cans, arc-top windows, open cross-beams and a vaulted room make once small rooms soar.
The interior design, created by Sharon Kiss of Ambiance Interiors, strengthens the open layout. Lacy Champion rugs starts a bold pattern of three-dimensional blocks that reverberate through the rooms.
"Both of us like the neutrals colors," says Lisa. "They are soothing and pleasing to the eye and the flow with the house." Kiss employed black as the accent color to balance out the neutrals and give them the high definition.
In the master bedroom, neutrals shift into an even lower gear, making the fireplace wall a focal point. Defined as a cozy sitting room, that area is dramatized by the African slate fireplace surround. In the wall designed to house art and antiques, Lisa's 1890s silver tankard dominates one lighted niche, and a temporary art gallery finds occupy others. The niches will become a revolving gallery as the Petersons' tastes grow and evolve.
Well-conceived renovations are designed to change with the years. Should the Petersons' tastes run to oriental rugs and antiques somewhere down the road, the spaces Ross has designed will accommodate them beautifully. Should they venture into vibrant tones, the light pouring into their home will make color dance.
No matter where the future may lead, the gracious amounts of light and the wonderful way the house flows from area to area will remain. The elegance of limestone pool decking, fireplaces at every turn, warm wooden open beams and land to surround the home will always be there. And in a house full of smart solutions to renovation challenges these constants will serve as an anchor to good living.