PROJECTS
feature articles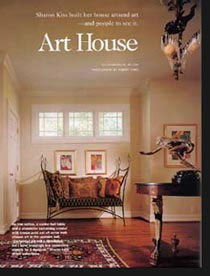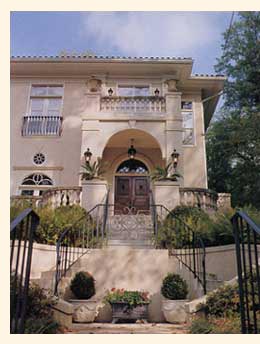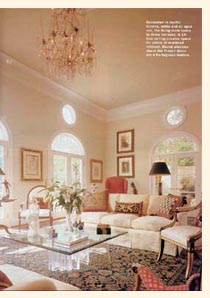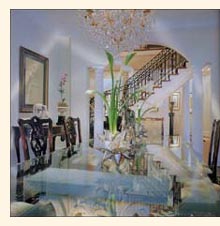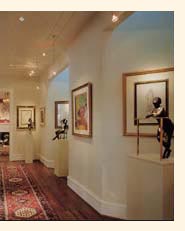 Sharon Kiss Built Her House Around
Art - and People to See it.
Atlanta Homes & Lifestyles, February 1998
By Susannah M. Wilson, Photography by Robert Thien.
Not for the faint-of-heart. The lot was steep and shaped like a pie slice. But something clicked for designer Sharon Kiss, ASID associate. In a flash she decided to build instead of buy. "This is what I do for clients," she reasons. "Why not do it for myself?"
After all, she had her requirements—an Ansley Park location, a large, versatile house for entertaining, a warm, light-filled setting for herself and spaces to showcase her art. She had in mind not only a list of the rooms she needed but their dimensions. She had even worked out ceiling heights according to room size. Talk about precision!
Architectural designer Robert Ross of Ross Design Inc. had worked with Sharon and her firm, Ambiance Interiors, on several projects. He was familiar with her furnishings, her entertaining style and her art collection. The two sat down at dinner one night and on a cocktail napkin sketched out the proposed residence. Sharon's visits to the Portuguese cities of Lisbon and Sintra had greatly impressed her, and Robert pored over travel books and photos of vernacular Portuguese architecture.
"We ended up with a mood evocative of Portuguese architecture, rather than a direct reference," Robert says. In short, a Mediterranean-style villa with a Portuguese twist. Certainly the red clay tile roof and the brass stair wave motif are recognizable Portuguese features, while an openness to the light and an indoor-outdoor orientation call to mind Portugal's sunny vistas. Robert and Sharon collaborated on other design aspects as well, from finishes to floor patterns.
The house on its irregular quarter-acre lot is only 20 feet from a neighboring residence, so Robert planned room and window placement carefully. A second-floor garage entrance off an existing alley suits the designer's active social life. Often, after a busy day, she heads straight for the master bedroom with its luxurious marble bath.
To best appreciate the exterior, a visitor should pause on both landings to take in the wrought-iron balconies, tile roof, stucco walls, arched portico and giant ferns that fill the hillside.
Sharon has strong creative convictions, made clear by her love of art. Paintings and sculpture beckon from all directions. The designer planned the entrance hall as a large room, rather than a passageway.
The gallery presents an intimate setting for her paintings and sculpture. Collecting sculpture is natural for a decorator who works in three dimensions. Figurative pieces are her first love. Many of her bronze, marble, steel, terracotta and alabaster figures are nudes, "the ultimate in figurative sculpture," as Sharon phrases it. "And my collecting continues on to paintings and drawings. I am addicted," she admits.
The decor was built around furnishings she already had. The living room, for example, is a direct pick-up from her previous house, rug and all. The Bibikabad rug determined room's dimensions. There's plenty of interest "on high" here. Tall wing chairs, five-foot ivy topiaries on the mantel, and a crisp floral bouquet on the coffee table are compatible in height with the 14-foot ceiling. "I tend to overscale rather than underscale. I would rather have one important, dramatic thing than a lot of little things," Sharon says.
French doors and round windows (yet another Portuguese feature) offer a glimpse of the tiled roof and three stone-paved terraces accented with fountains, greenery and colorful potted plants. "I'm not a casual person," she says. "I wanted to be able to enjoy the outdoors in my high heels, because when I come home from work I often don't take them off."
When the weather's nice, the downstairs rooms open onto the terraces and expand space for entertaining. Sharon frequently entertains for arts organizations. Whether at dinner parties large or small or at casual buffets, the house is sparkly and festive. Light glitters off the many reflective surfaces, and the candles in the living room chandelier lend a sense of romance.
This gracious, sophisticated house meets all the designer's needs. "It's very much mine, and I'm comfortable in it," Sharon says. It's so well established on its formerly difficult lot that, best of all, says Robert, guests assume that the house is not new but has had a remarkable renovation, and is a new timeless treasure.
Picture Notes:
Inspired by travels to Lisbon and Sintra, Sharon shaped her Mediterranean-style villa in Ansley Park on that architecture. Featuring double stairways and stucco walls, the red-clay tile roof is a Portuguese feature, while large ferns are typical of Mediterranean landscaping. The balustrade of the limestone-floored terrace, left of the entrance, invites visitors to look down on a quiet street.
In the dining room, Sharon combined chairs crafted by Charleston cabinetmaker Thomas Elfe and a table with a glass top and limestone base. "When you are comfortable with antique and contemporary things, you can often get an interesting juxtaposition of complexity and simplicity," she says. In the adjoining gallery, a skylight bathes her art in natural light.