PROJECTS
feature articles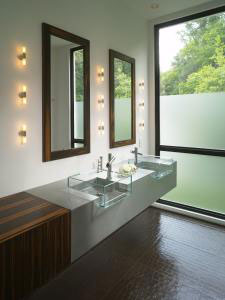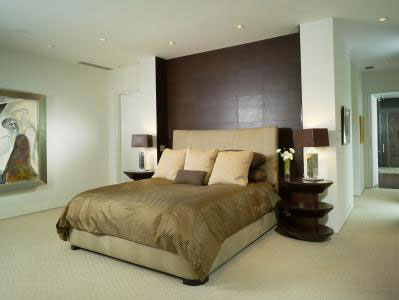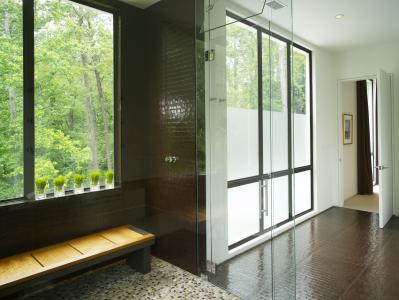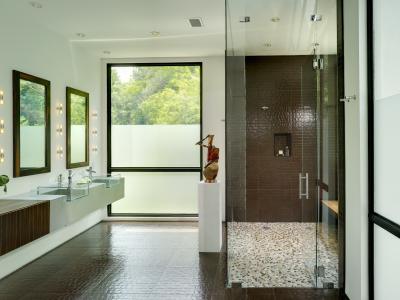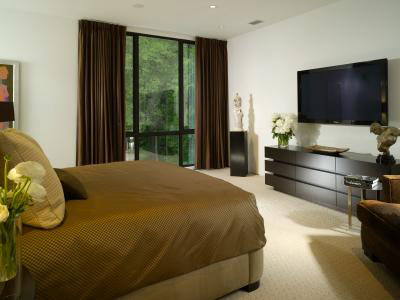 Inner Sanctum
Bathroom Trends, volume 2803
Set away from public spaces, often taking a floor of its own, a master suite offers an oasis, removed from the noise and bustle of daily life.
This master bedroom and bathroom with connecting hallway were designed by the owner, with interior decor by Sharon Kiss. The master suite is part of an expansive, contemporary residence. Living spaces on the floor below feature soaring interiors, with open-plan rooms running one to the next, but this suite has been given a more intimate feel, says the owner.
"For example, you turn a corner at the top of the stair to access the bedroom—screening the master suite from immediate view," he says. "These private rooms also have clean lines, but with a greater emphasis on texture, and the introduction of warm beige tones."
In the bathroom, the custom-designed vanity showcases the unusual sculptural glass basins. An emphasis on natural finishes includes a vanity extension in wood veneer, and tiles on the floor and on walls in the shower area that look like crocodile skin. Coarse pebble tiles are used on the floor of the shower itself.
Sharon Kiss says the owner works irregular hours, so it was important that he could sleep undisturbed no matter what the time of day.
"While the windows are unadorned on the main level, I introduced drapes in the bedroom to screen out the midday sun. The bed itself is recessed into an alcove that features leather paneling. This masculine inclusion adds to the textural emphasis and also helps muffle sounds from the outside world."
Exotic fabrics, chosen within a warm, muted colorway, add a pampering touch to the suite. The broad use of natural surfaces complements the forest outlooks enjoyed by the bathroom, connecting hall and master bedroom.
All photos and text © Trends Publishing