PROJECTS
feature articles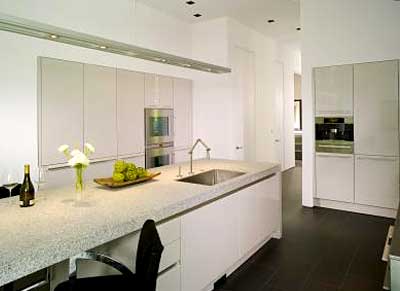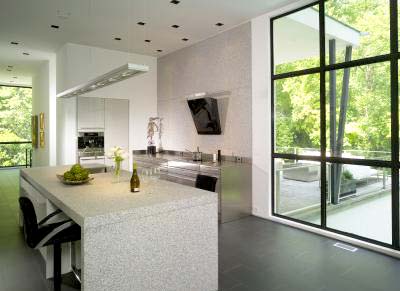 2010 Kitchen of the Year Contest
Atlanta Homes Magazine, January 2010
Whether your style is traditional, modern or somewhere in between, this year's kitchen winners prove that, above all, a pared-down approach prevails
21ST ANNUAL KITCHEN CONTEST GRAND PRIZE WINNER
This modern take on a subtle and seamless kitchen without the extras still manages to deliver dramatic impact and sleek style
"The homeowner knows how he entertains and lives, and the rest was just extra," explains designer Matthew Rao. "He didn't want two of this, and three of this and six burners on the stovetop. He knew that a five-burner induction cooktop was plenty for him, a one-bowl sink was enough for him and one dishwasher in the kitchen was enough for him." Many of the elements in the room were kept minimal to showcase the beauty of the surrounding outdoors, which command full view thanks to a towering gridded window. The Kohler Karbon faucet is angular to meld with the clean lines established in the space; because its design doesn't require pullout attachments, it's minimal, too.
DESIGN DETAILS
KITCHEN DESIGN
Matthew D. Rao, CKD
Rao Design Studio Inc.
938 Peachtree St., Suite 150
Atlanta 30309
(404) 815-5655
raodesignstudio.com
ARCHITECTURE
Andy Armstrong
Armstrong Associates Architects
P.O. Box 820
Roswell 30077
(678) 361-6484 CONTRACTOR
Joe Noah
Noah & Associates
1750 Peachtree St.
Suite 250-D
Atlanta 30309
(404) 347-3550
noahandassociates.com
INTERIOR DESIGN
Sharon Kiss
Ambiance Interiors
45431 Greenling Cr.
Mendocino, CA 95460
(707) 962-0808
sharonkiss.com
Kitchen designer Matthew Rao had already worked on two modern kitchens with this discriminating homeowner, but this newest project lent the opportunity to take his work to new heights.
"I thought I was already a minimalist, and then I realized there was another level that I had not gone to before," he explains. "The challenge was having the confidence that I had done enough. We designed it the way we liked, and then we reduced and reduced and reduced."
The home's architect, Andy Armstrong, had devised an open floor plan, its first floor composed of five major spaces that flow into one another and place the kitchen in full view. Rao installed tall cabinets to blend in subtly with the wall, providing plenty of storage and disguising appliances—the refrigerator, freezer, even a wine cooler—at the same time. Because there's little exposed hardware, the cabinetry blends in seamlessly, letting the grid of windows take center stage.
A combination island/breakfast table can accommodate four but is most often accompanied by two black cowhide-covered stools—a selection of interior designer Sharon Kiss, who chose them for the warmth and whimsy they add to the otherwise austere room. The homeowner loves that he can easily spread out a newspaper, sip coffee and watch the morning news with plenty of room to spare. And a cup-warming drawer directly beneath the Miele coffee system entertains this favorite luxury.
Making this space even more distinctive is the hood, a futuristic design by Zephyr; it hovers along the wall like an objet d'art. And a slick, stainless steel backsplash offers a simple transition from the countertop to the granite featured on the walls.
Perhaps the most defining feature of this kitchen is not the space itself but, instead, its architectural homage to the outdoors. Rao made a point of showcasing an amazing tree canopy beyond the tall gridded window—the true mark of a designer who knows how to make a kitchen speak not for what it screams, but what it says quietly.
The number of finishes in the room was kept minimal—porcelain floor tiles, cut granite slabs on the walls, glossy pale gray laminate cabinetry and stainless steel, plus volcanic stone on the butler's pantry countertops. Surfaces alternate between slick and ultra-matte to keep the look dynamic but not jarring. A repetition of strong rectilinear shapes and uniform cabinet widths maintains this continuity, each cabinet door revealing an unexpected element behind it—a wine cooler, storage pantries, refrigerator, freezer and more.